LP/CD: Gallows Birds "Quaranteenage Kicks"
$

20.00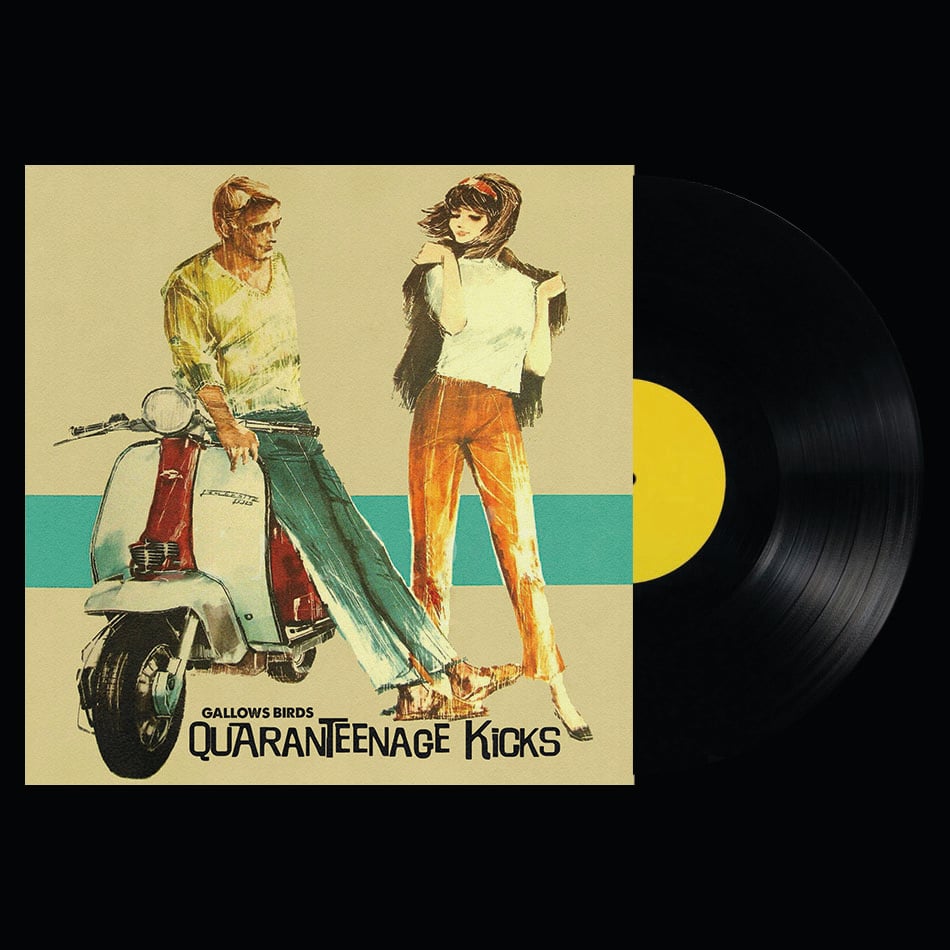 This one may not be an Eccentric Pop release, but its definitely in the family!! From our good friends at Rum Bar Records, Gallows Birds "Quaranteenage Kicks" is the first LP written by Eccentric Pop's own cruel overlord Travis Woods!
"I'm totally in love with My Lambretta by The Gallow Birds!" - Morten Henriksen, The Yum Yums
"What a killer single! Definitely one of the best things I've heard all summer, and I am excited to hear more from Travis and friends!" - Lord Rutledge, Faster And Louder
"OMG, as a huge Graham Parker fan I have to say this is the greatest cover of one of his songs ever! May even eclipse the original version!" - Scott Hudson, The Ledge @ Real Punk Radio
"This is how it's done. How can you possibly go wrong with a song about Lambrettas and a Graham Parker cover? Both an energized, revitalized, sound in the right direction. Still plenty of Summer left for this one to be blasting!" - Boris Boden, The Secret Weapon Radio
"Both songs are great." - Diego RJ, El Sotano
For fans of Lookout! era bands like The Hi-Fives, The Smugglers, The Phantom Surfers, and possibly MTX or if you like your cocktail shaken with a bit of Ramones, Beach Boys and Graham Parker than this one's for you...
Picture it: Pandemic, 2020. The bars are closed. Offices are shut down. Anxieties are high. In Wilmington, North Carolina, Travis Woods (Eccentric Pop Records) is spending his days with some old friends - the Beach Boys, Ramones, the Everly Brothers, the Dickies - and dreaming about riding his Lambretta down to the beach to soak up some sun like he used to be able to do.
But the beaches are off limits and the Lambretta's been under a tarp since last summer. So he picks up a guitar and begins writing some new tunes - summer tunes, beach tunes. Tunes inspired by girls, scooters, surfboards, the Beach Boys, the Ramones. Before long, there's a whole record's worth, written and recorded to a click track. Glenn Welman, himself quarantined at home in Johannesburg, South Africa, records some drums tracks, and sends it off to yet another restless quarantiner - Richie Holes (Goin' Places) in New York for vocals.
Before long, from cities across the globe, the three have completed a a full LP - Quaranteenage Kicks. A collaboration among three friends, thousands of miles apart, who have never once met in real life. It's the perfect summer soundtrack to chase away those quarantine blues.
credits
releases October 16, 2020
Gallows Birds (on this recording) is:
Travis Woods - Guitars
Richie Holes - Vocals
Glenn Wellman - Drums